The Brazilian Oktoberfest – Blumenau
Food, festival and friends: is there a better way to dive into a new culture?
What can bring people together more than sharing food and celebrate?
Well, the city of Blumenau, with its Brazilian Oktoberfest, can rightly tell us!
It took me 10 years to go back to Brasil, my home away from home…
When I lived in Lages, Santa Catarina, doing research for my dissertation I met a lot of Italian emigrants. I shared food, songs and stories.
This time, among the other places we visited, I wanted to visit a place that is a home away from home for another specific emigrant community: the Germans. This is how we ended up in Blumenau.
The place
Blumenau is a city in the South of Brazil, in the state of Santa Catarina. Santa Catarina is an interesting intercultural region since the XVIII century when European immigrants settled there. They mostly came from Italy and Germany. They brought to Brasil their cultures and traditions. Dr Blumenau is the founder of the city of Blumenau. Together with seventeen other German immigrants, he founded the city in 1850. Their cultural roots shaped the local customs and traditions, as well as the city's architecture. 

The celebration –
Munich and Blumenau, one Bavarian festival
We cannot speak about German culture without mentioning the Oktoberfest. Probably the most famous and old celebration of German culture. The story said that everything started in 1810 from King Louis and Princess Therese's marriage celebration, on Wiese lawn. The entire population of the region took part in it: so then it became a Bavarian official festival. Till today, during the 15-20 days event, people from all over the world get together and experience typical German foods and drinks such as weisswurst or beer, local attractions and have a taste of the German and, especially, Bavarian culture.
So it doesn't seem strange that German immigrants with Bavarian roots, in Blumenau, started the Brazilian Oktoberfest, creating an incredible mix of German and Brazilian culture: the biggest beer event in the world after Munich's festival.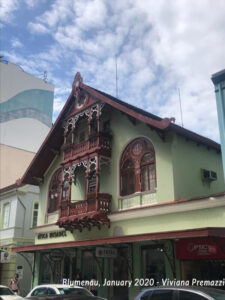 The festival is held at the Parque Vila Germânica, where you can admire European-inspired architecture and enjoy various restaurants, regional products and handicraft shops. The city also hosts a big beer museum where you can try traditional German costumes and learn about the art of brewing beer.
A home away from home
Celebrations of the culture of origin are extremely important for the migrants.  They become meeting places for the community. Gathering together is not only linked to the need for socializing but also to the idea of passing the culture to their children.
The festival is not only a party but a place of celebration of identity, for themselves and their children. As research shows, commemorations, celebrations and symbols may have an important function in turning the imagination of a community into a tangible experience. It creates a sense of belonging, a home away from home.